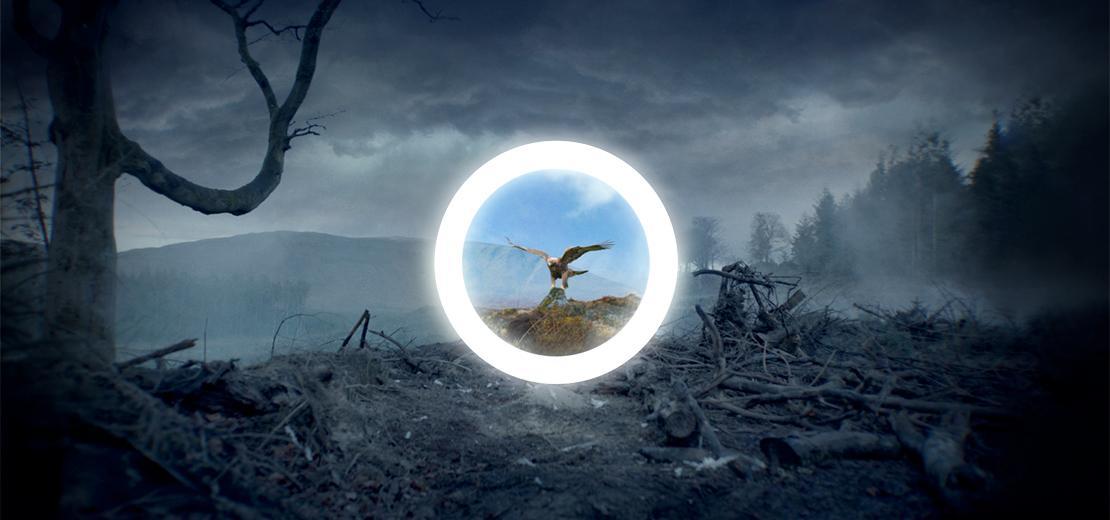 Global Climate Emergency
Do nothing or do net zero?
We're living in a global climate emergency. Our climate is changing and we're seeing the impact in Scotland. As we recover from the COVID-19 pandemic we have the chance to take action, combat climate change and work together to reach net zero emissions.
Let's do net zero.
Climate change and nature loss are the greatest global threats we face. Many of our actions produce greenhouse gas emissions that trap heat from the sun, raising our planet's temperature and causing our climate to change. This isn't a distant, far away problem; it's here in Scotland and we're already seeing the impact. We've experienced our warmest years on record and rainfall levels are increasing – this weather is expected to continue and get more intense. That's why every action we take now to cut our emissions will reduce warming and the negative effects we're experiencing on our climate.  
Rising global temperatures will cause catastrophic changes at home and around the world. We'll see more floods, rainstorms and heatwaves. Our coastlines will erode. Globally, less land will be fit to live and grow food on, meaning fresh water and food supply shortages and leading to increased migration. Existing and new diseases will spread more easily. Even more species will struggle to survive. 
2045
Scotland's target to achieve net zero emissions by
This is why Scotland was one of the first nations to declare a global climate emergency. Our world-leading legislation commits us to reaching net zero emissions of all greenhouse gases by 2045. 'Net Zero' means the amount of greenhouse gas emissions we put into the atmosphere balances with the amount we take out. We can do this by changing our lifestyles to reduce our emissions as much as possible and offsetting emissions we can't avoid by planting trees, restoring peatland and in future through using carbon-capture technology.  
To become a net zero nation everyone in Scotland must play their part. We can build thriving communities and grow our economy by changing how we live and work. And we can act now to reduce our emissions and prepare for the impacts of climate change that can't be avoided to help protect what we love. We can do nothing or we can do net zero, There is only one answer…  
Let's do net zero. Take action starting now!
To achieve net zero by 2045, we must take action. Start here to find ways that you can make changes in your life at home and on the go.
If we don't take action to reduce emissions and prepare for the impacts of climate change, there will be more…. 
Catastrophic flooding
Our beloved coastal towns will flood more frequently – it's estimated that by 2080 the number of properties at risk of coastal flooding will increase by 90%.

One in eleven homes and one in seven businesses in Scotland are already at risk of flooding. Around 2000 more properties will be at risk every year due to climate change.

Flash floods (unpredictable, sudden and dangerous flooding) will occur twice as often by 2070 as they did in 1990.

Signing up to SEPA's Floodline service provides you with live flooding information and advice and will notify you when the area you live, work or travel through is at risk of flooding.
Biodiversity loss
Biodiversity is all the different types of animals, plants and other organisms in our natural world. We need our natural world for the air we breathe, the water we drink and the food we eat. But already the impact from the climate emergency on biodiversity is devastating.

Nature is not a nice to have, it's fundamental to human life. We're part of a complex ecosystem and if the foundations begin to crumble, the whole system will collapse.

Changes in land use and habitat loss mean our nature is in crisis - nearly 25% of our wildlife is lost and 11% of species in Scotland face extinction. Climate change is only making this worse. Find out more in the State of Nature report.

Our coastal habitats are seeing pressure from climate change through rising sea levels and storms that are causing our coastlines to waste away.

Invasive non-native species, pests and diseases will thrive and spread under new conditions.

Summer droughts and changes in water supply will severely limit natural growth, alter habitats and impact farming.

Our peatlands, native woodlands, coastal and marine habitats have a vital role to play in taking carbon out of the atmosphere, adapting to climate change and reducing the risks of flood, drought and wildlife loss.

By protecting, restoring and enhancing nature we'll help reduce carbon emissions and reverse biodiversity loss. We need to make space for nature to allow it to thrive – and allow us to thrive. Find out what action you can take to help nature.
Life threatening rainstorms
The heavy rainfall we experience across Scotland will become more intense and happen more frequently causing even more flooding. This will continue to impact our safety, homes and livelihoods as well as the environment and transport infrastructure.

If emissions are high, it's estimated that by 2050 rainfall in Scotland could increase by up to 42% in winter and 24% in summer. Our drainage systems could be unable to cope, leading to flooding sudden and severe enough to cause danger to life.

It's estimated that 284,000 properties are at risk of flooding and this is expected to increase by a further 110,000 with climate change by 2080.

Check the Adaptation Scotland website for resources to help your community become more resilient to climate change.
Scotland. A net zero nation.
As we emerge from COVID-19, we have a chance to build a successful, sustainable economy and a more equal society. But we need everyone – businesses, communities, industry and individuals – to come with us on this journey to net zero and take action to change how we live and work to make sure we protect Scotland and our planet.  
Reaching net zero and preparing for climate change will transform Scotland: our economy, our environment, our communities. Our energy sources will be sustainable, our buildings more energy efficient, the way we travel will be cleaner, our diets will be healthier and nature will recover. Technological innovation will help our economy grow and we'll live in a fairer society. This is our vision of a net zero nation. 
For our partners
Use our campaign toolkit to show Scotland's solidarity and participation in responding to the global climate emergency.