How Dandelion is harnessing the power of Sow, Grow and Share
30 August 2022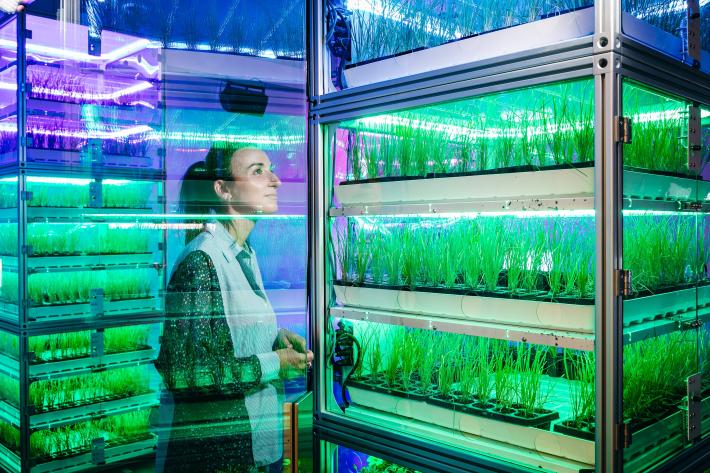 Reaching Scotland's net zero ambitions and ending our contribution to climate change within a generation will require collective action and transformational change across all parts of Scottish society. One initiative demonstrating the power of collective action in Scotland is the Dandelion festival. 
One of the ten programmes within Unboxed, the major UK-wide festival of creativity and innovation, Dandelion is Scotland's six-month celebration of growing, music and community, with sustainability at its heart. The festival was commissioned by Event Scotland (who are Scotland's Strategic Delivery Body for Unboxed), funded by Scottish Government, and has been delivering across Scotland since April 2022, following the growing season from April to September. Events have been taking place across the country, from Scotland's remote and rural islands to towns and cities, as well as online, to ensure the Dandelion programme is accessible to as many people as possible. Participating schools have been growing and learning and Dandelion, and the other Unboxed programmes, have created online learning resources for schools right across the UK which bring STEM and Arts together - Learning resources | UNBOXED (unboxed2022.uk).
Just as many will have heard of the 'reduce, reuse, recycle' concept, aimed at promoting a circular economy in which goods and services are kept in use for longer, the Dandelion festival champions the 'sow, grow, share' mantra.
This 'sow, grow, share' concept doesn't just relate to plants and food. It extends to science, art, music, knowledge, ideas, and, importantly, our sense of community. Dandelion encourages the Scottish public to live more sustainably by learning how to cultivate and create, and then sharing results with others.
This type of lifestyle will be vitally important in contributing to Scotland's ambition to become a net zero and climate ready nation.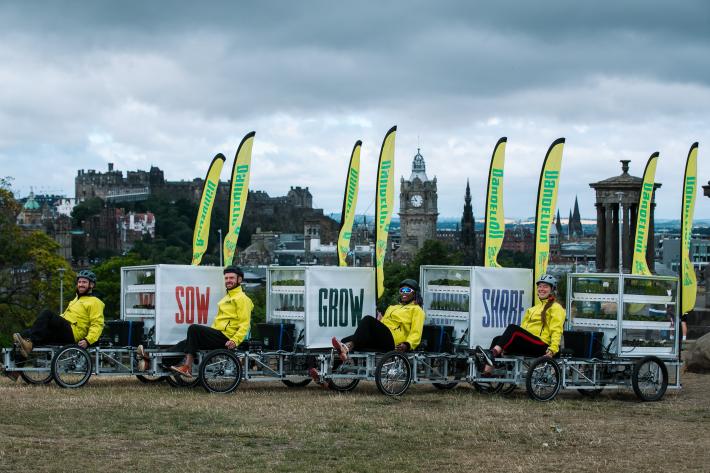 Highlights of the programme so far include:
Dandelion Festival Glasgow – a free weekend-long festival in Kelvingrove Park in June 2022 with live music, performances, talks, workshops, sustainable food and plant giveaways. A further festival will take place in Northern Meeting Park, Inverness during 2-4 September to close the summer.
Learning and growing – at least 88,000 school children across 14 local authorities have already become citizen scientists using vertical farm growing cubes which, after the programme ends in 2023, will be gifted to schools and community groups as a legacy of the project.
Schools will also be part of the Big Tattie Experiment, with 200 tonnes of specially made, sustainably sourced, growing medium taken home by pupils to grow potatoes to feed their community at the 500+ Harvest Festivals planned for the second weekend in September 2022
13 Unexpected Gardens have been created – working with communities to grow food and flora, gather for events, activities and workshops and celebrate with performances from Musicians in Residence.
Cube installations – Dandelion's cube of perpetual light – or miniature vertical farms – have been touring the country throughout summer, and have provided inspiration for new music commissions, focussed on the themes of sustainability and growth.
Cube bike tour – a fleet of four cargo bikes, each displaying one of the cube installations, have been touring ten towns and cities across Scotland to encourage people to sow, grow and share food.
And many other activities including school growing initiatives, harvest celebrations and "Free For All" free plant giveaways and newly planted 'unexpected gardens'.
With strong links to Scotland's net zero goals through the promotion of sustainability, community engagement, and 'growing your own', Dandelion embodies the collective action required to tackle climate change.
As climate change is likely to most impact on the next generation, Dandelion's activities centre on empowering and inspiring young people to be creative leaders of the future. The programme is also seeking to re-establish harvest as a significant annual cultural celebration for all of Scotland.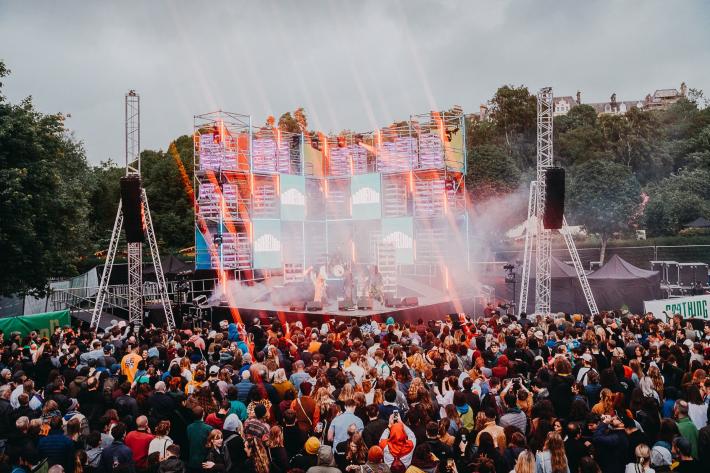 Interested in community climate action?
Dandelion concludes its programme of events on 11 September 2022 with over 500 community harvest festivals. Click here to find out how you can get involved with Dandelion.
For more information on how you can get involved in sustainability and climate action at the community level throughout September 2022, check out the Climate Fringe Festival. The Climate Fringe, delivered by Stop Climate Chaos Scotland, is a community-led and community-organised series of events taking place across the whole of Scotland, showcasing the diversity of the Scottish climate movement.
Finally, Scotland's Climate Week is a week-long event, running from 26 September to 2 October, to raise awareness of the global climate emergency, celebrate and showcase the climate action being taken across the country and encourage further action in order to reach our net zero ambitions.